Webinar in Islamic Material Culture "Communication in Public and Domestic Spaces"
57-514 Webinar in Islamic Material Culture
"Communication in Public and Domestic Spaces – Webinar Lecture Series"
The Social Use of Inscriptions and Epigraphy in the Islamic World
Thursday, 4-6 pm CEST
Starting October 27, 2016 – Stefan Heidemann, Universität Hamburg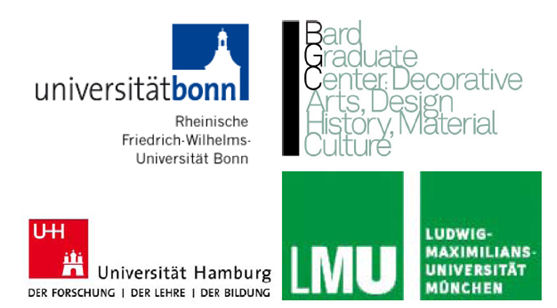 Islamic Material Culture
The webinar is part of the 'Webinar Initiative in Islamic Material Culture' jointly organized  by The Universität Bonn (Bethany Walker), the Ludwig-Maximilians-Universität in Munich (Andreas Kaplony), The Bard Graduate Center in New York (Abigail Balbale), and Universität Hamburg (Stefan Heidemann).
Why Inscriptions and Epigraphy?
Seemingly more than the preceding Roman and Sasanian Empire, calligraphy, inscriptions, and epigraphy played a dominant role in public and domestic sphere. All inscriptions, even the iconic illegible have a message to be received: inscriptions glorifying rulers and their victories, about endowments and privileges, about taxes and market regulations, and to the memory of the deceased. We see even an emblemization of script in the public; from the legible message to the pseudo-inscription. What purpose do they serve? This use of epigraphy and inscriptions will also to be discussed in relation to other visual elements and architecture. Communications on a daily basis functions also within the domestic sphere, graffiti, ostraca, and paper notes, which are formulaic and grant privileges and permission. The lecture series I meant to introduce in the various forms of inscriptions and epigraphy and their social use.
Prerequisites for participation
Spoken and written proficiency in English language. The course is open to all advanced students in B.A., M.A., and PhD programs of Islamic studies, historians, art historians, and archaeologists of the Middle East. All students need a computer, a reliable internet access, and a headset. In a personal online skype interview in mid October 2016, we will check whether all technical assets are working. Please apply with a short CV and a motivation letter in English until October 7, 2016. These will be emailed to Prof. Stefan Heidemann at: stefan.heidemann@uni-hamburg.de. Preference is given to students from universities within the network of the webinar initiative "Islamic Material Culture".
Program
Thu, October 27 – Stefan Heidemann – The Public Message
Thu, November 10 – Scott Redford – Military Installations and Inscriptions – The Case of the Rum Saljuq Citadel
Lit. Scott Redford, Legends of Authority: The 1215 Seljuk Inscriptions of Sinop Citadel, Turkey İstanbul: Koç University Press, 2014.
Scott Redford and Gary Leiser, Victory Inscribed: The Seljuk Fetihname on the Citadel Walls of Antalya, Turkey Istanbul: AKMED (Adalya Supplements No. 7), 2008.
Scott Redford  " Mamālik and Mamālīk: Anatolian Seljuk Citadels and their Decorative and Inscriptional Programs," S. Redford and N. Ergin, eds., Cities and Citadels in Turkey: From the Iron Age to the Seljuks Leuven: Peeters, 2013, pp. 305-346.
Scott Redford, "The Inscription of the Kırkgöz Hanı and the Problem of Textual Transmission 27
Thu, November 17 – Sheila Blair - The Epigraphic Program(s) on Uljaytu's Tomb at Sultaniyya: What Epigraphy Tells Us
Lit. The Epigraphic program of Uljaytu's tomb at Sultaniyya:  Meaning in Mongol architecture," Islamic Art 2 (1987): 43-96, and sultaniyya.org.
Thu, December 8 – Bethany Walker – Graffiti in / as Social Practice
Thu, January 19 – Abigail Balbale - Epigraphy in Architectural Context - From a Message to an Emblem
More information under
https://www.islamic-material-culture.uni-hamburg.de/en/current-webinar.html
---