Oriental Textual Traditions and 21st-cent. Philology: New challenges
Katholieke Universiteit Leuven, 5-7 September 2012
Workshop organization: Caroline Macé(Caroline.Mace"AT"arts.kuleuven.be), Katholieke Universiteit Leuven, Tara Andrews(Tara.Andrews"AT"arts.kuleuven.be), Katholieke Universiteit Leuven

Venue: Leuven Faculty Club, Groot Begijnhof 14, 3000 Leuven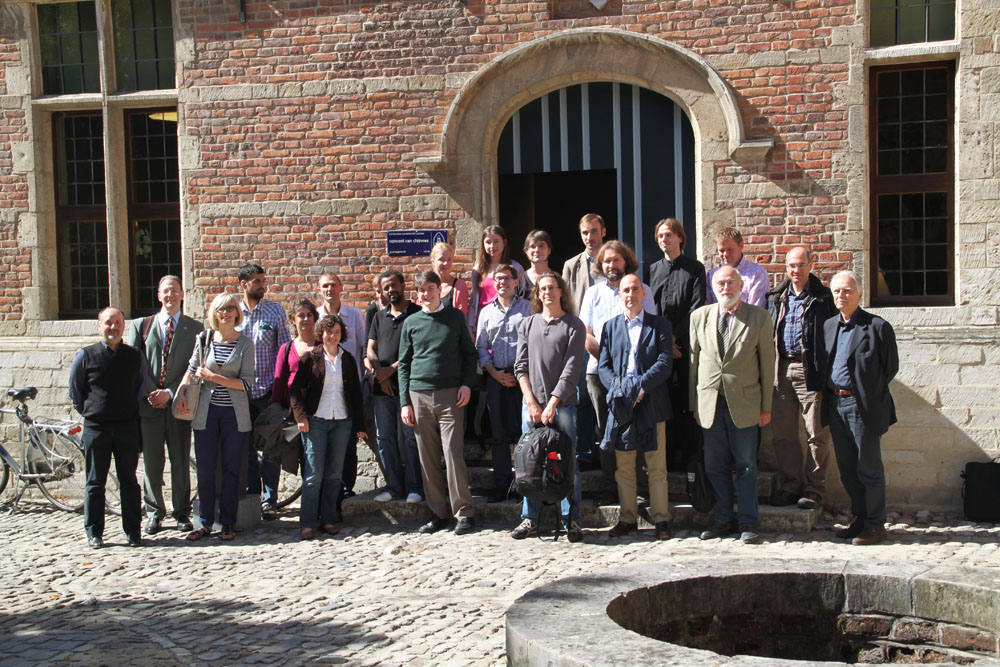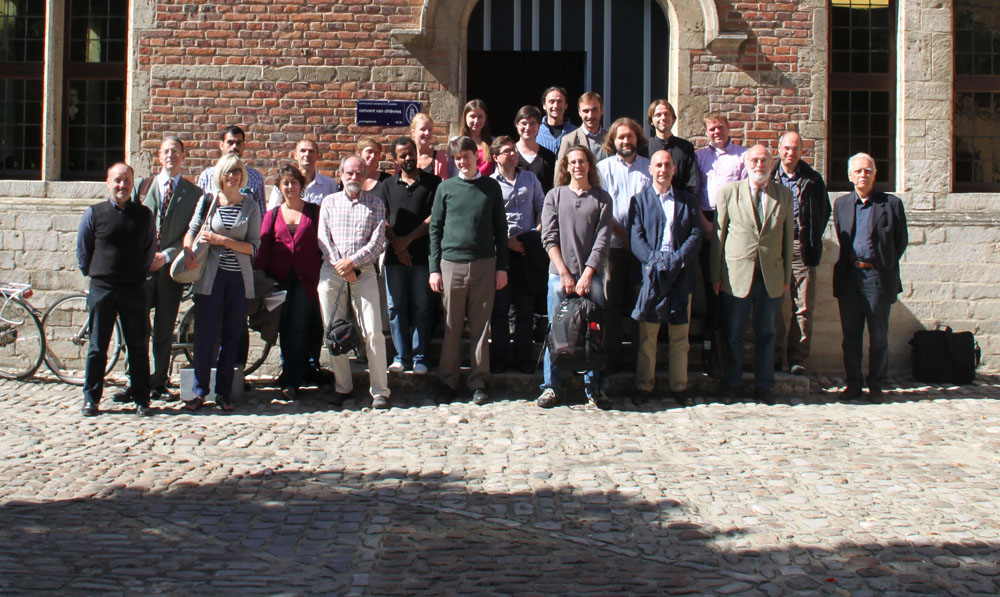 Click here to download the detailed workshop report (PDF).
In this third workshop of Team 2, the focus was on the specificities of Oriental textual traditions and, based upon these, on the possibilities offered by the increasing use of computer methods in philology and its possible impact on our methodology. 

This workshop had two main themes, directly related to the "Philology and Text Criticism" chapter that Team 2 and members of Team 3 are preparing. First, the issue of multilingualism and translations, which are indeed especially important in Oriental textual traditions. Several Oriental literatures were first developed in translation, and cultural exchanges across languages were common throughout Late Antiquity and the Middle Ages in Byzantium and the Near East (whereas Western culture tended toward the monolingual, either Latin or Latin-based vernaculars). A few case studies were examined in order to show the difficulties, from an editorial point of view, in dealing with manuscripts written using several languages and/or scripts, translated texts, translations, etc. Secondly, there is nothing approaching a unified methodology in textual criticism—nothing that can be applied universally to the different types of textual tradition. True as this is for Western philology, it is even more so in the case of Oriental textual traditions, because the histories of the texts and their manuscripts have greatly varied from one case to another, depending on parameters that must be isolated and identified. Some traditions are extremely conservative (the text is preserved almost like a fossil) and others are totally open; many lie somewhere between those two extremes. The philological answer must differ from one case to the other, but it is very important to establish which methodologies are more suitable in each of these cases, and why.
The third session of the workshop and the round-table served to summarize the issues at stake and introduce the second part of the workshop.
The final sessions of the workshop was organised in close collaboration with Team 3 and the Interedition project. Programmers and scholars involved in Interedition demonstrated some of the tools which have been developed to deal with both Western and Oriental texts: transcription of manuscripts, automated text collation, stemmatic analysis, stylistic, linguistic analysis of collated text, critical edition, representation, publication of the text.

Workshop programme
Wednesday, 5 September

13:30-14:00 Welcome of the participants (and coffee)

14:00-14:15 Opening address and practical remarks (C. Macé, A. Bausi)

14:15-16:00 Session 1: Multilingualism and translated texts
Chair: Alessandro Bausi
Sever Voicu, The diffusion of John Chrysostom in Oriental languages
Valentina Calzolari, The edition of apocryphal literature
Emilio Bonfiglio, The Armenian Versions of the Martyrium of Philip: Status Quaestionis and Editorial Issues

16:00-16:30 Coffee break

16:30-18:15 Session 2: Types of textual traditions and philological responses
Chair: Hugo Lundhaug
Caroline Macé, Dealing with an overabundant textual tradition - stemmatology and beyond
Gregory Kessel, Syriac Monastic Anthologies: Mediators or Obstacles in the Study of Monastic Literature in Syriac? Some methodological considerations on transmission of the texts
Alessandro Mengozzi, History of transmission and publication of Syriac dialogue poems

18:15-19:15 Short presentations by Junior Researchers (Sophia Dege, Hamburg; Gidena Mesfin, Hamburg; Alba Fedeli, Birmingham; Lucia Raggetti, Naples; Mária Lácinaková, Bratislava; Cornelius Berthold, Leipzig)


Thursday, 6 September

09:00-10:45 Session 3: Establishing the Text : Traditional and Digital approaches
Chair: Jost Gippert
Jan Just Witkam, The philologist's stone. The continuing search for the stemma
Lara Sels - David Birnbaum, Editing Medieval Slavonic Translations of Byzantine Texts: a Digital Edition of the Vidin Miscellany, between Artifact and Origin (or The Words on the Page and How they Got There)

10:45-11:15 Coffee break

11:15-12:30 Round Table: Oriental Textual traditions and 21st-cent. Philology: New challenges
Chair: Caroline Macé

12:30-14:00 Lunch

14:00-16:00 Editorial meeting about Chapter 2 of the Handbook

16:00-16:30 Coffee break

16:30-18:00 COMSt – Interedition Schooling programme - Part I: Problems and approaches for transcription for oriental manuscripts - Automated text collation
Tutors: T. Andrews, J. van Zundert, G. Middell, T. Griffitts, F. Willems

18:00-19:00 Presentation of Classical Texts Editor by Stefan Hagel, and discussion with people using the software for Greek and Oriental languages

Friday, 7 September

09:00-10:45 COMSt – Interedition Schooling programme - Part II: Stemmatic, stylistic, linguistic analysis of collated text - Critical edition, representation, publication
Tutors: T. Andrews, J. van Zundert, G. Middell, T. Griffitts, F. Willems

10:45-11:15 Coffee break

11:15-12:30 Discussion: Digital tools for editions of Oriental texts - Needs and desiderata

12:30-13:00 Concluding remarks (C. Macé, J.J. Witkam)

Participants

Speakers
Dr. Tara Andrews, Leuven (BE)
Professor Alessandro Bausi, Hamburg (DE)
Professor David Birnbaum, Pittsburg (US)
Dr. Emilio Bonfiglio, Genève (CH)
Professor Valentina Calzolari, Genève (CH)
Professor Jost Gippert, Frankfurt (DE)
Mr. Troy Griffitts, Münster (DE)
Dr. Stefan Hagel, Wien (AT)
Dr. Gregory Kessel, Marburg (DE)
Professor Hugo Lundhaug, Oslo (NO)
Professor Caroline Macé, Leuven (BE)
Professor Alessandro Mengozzi, Torino (IT)
Mr. Gregor Middell, Würzburg (DE)
Dr. Lara Sels, Leuven (BE)
Mr. Joris van Zundert, Den Haag (NL)
Dr. Sever Voicu, Roma (IT)
Dr. Florian Willems, Köln (DE)
Professor Jan Just Witkam, Leiden (NL)

Participants
Mr. Cornelius Berthold, Leipzig (DE)
Dr. Richard Bishop, Leuven (BE)
Professor Cécile Bonmariage, Louvain-la-Neuve (BE)
Dr. Laurent Capron, Paris (FR)
Dr. Reinhart Ceulemans, Leuven (BE)
Dr. Lorenzo Cuppi, Leuven (BE)
Dr. Ilse De Vos, Oxford (UK)
Ms. Sophia Dege, Hamburg (DE)
Dr. Alba Fedeli, Birmingham (UK)
Professor Antonia Giannouli, Nicosia (CY)
Dr. Erika Gielen, Leuven (BE)
Ms. Mária Lacináková, Bratislava (CZ)
Professor Johan Leemans, Leuven (BE)
Ms. Katrien Levrie, Leuven (BE)
Mr. Gidena Mesfin, Hamburg (DE)
Dr. Sébastien Moureau, Louvain-la-Neuve (BE)
Dr. Kellen Plaxco, Marquette (US)
Dr. Lucia Raggetti, Roma (IT)
Professor Andrea Schmidt, Louvain-la-Neuve (BE)
Mrs. Evgenia Sokolinskaia, Hamburg (DE)
Professor Peter Van Deun, Leuven (BE)
Dr. Ugo Zanetti, Chèvetogne (BE)