Memories of the Past Summer 2013
Webinar, Memories of the Past - Summer 2013
57-187 MA-Seminar (Webinar): Memories of the Past? "Classical Revival" in The Middle Islamic Period [ISL-W]
Begin Wednesday, April 17, 2012, 4-6 pm (CET) biweekly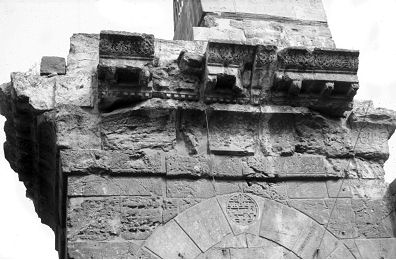 Qastal al-Shu'aybiyya at the Antioch Gate in Aleppo, built in 545 / 1150
Entablature in classizing style mentioning the early caliph 'Umar ibn al-Khattab Who entered the city in 16/637


Prof. Dr. Stefan Heidemann
Tel.: +49 40 42838-3181
Fax: +49 40 42838-5674
E-Mail: stefan.heidemann@uni-hamburg.de


Why 'Classical Revival'?
The 12th and 13th centuries are a turning point in the history of the Middle East. It is the rise of the cultural and political blossoming of the so-called Middle Islamic Period. The 12th century saw much of interaction with the countries north of the Mediterranean; the crusades are just one colourful start, but this interaction run much deeper, much deeper than the written sources will tell us. This vibrant interaction is visible in the material culture, Architecture, Ceramics and Metalwork and the Coin Design.
The webinar will look at the change in coinage systems physically financing this change and adapting to the new economic realities. The second part will look in the trade pattern, that of the metal, gold, silver and copper and that what traded in exchange to them. The third part of the tutorial will look into the design, the images and the decoration of the coinages and what they can tell us about the culture.
Participants
This tutorial aims for students M.A. and PhD students of Islamic studies, historians, professional numismatists, and archaeologists in the Middle East. It is intended for advanced students who have already have experience either in epigraphy, palaeography or in Islamic numismatics. Students must have a firm passive knowledge of Standard Arabic and English.
Lecturer
Prof. Stefan Heidemann, Universität Hamburg, Asien-Afrika-Institut, Islamic Studies
E-mail: stefan.heidemann@uni-hamburg.de
Requirements
The command of English and the motivation will be assessed in a personal online meeting before the semester starts. Students need a computer, internet access, and a headset. In a personal online meeting in early April 2013, we will check whether all technical assets are working. Technical problems showing up during the semester that prevent students from attending the class are subject to his or her own responsibility. Please contact Stefan Heidemann (stefan.heidemann@uni-hamburg.de). Further information and instruction will follow after registration.
Mode
The class meets (almost) every two weeks for 90 minutes, in a small group, online, seven times during the term. The definite schedule will be announced early April. Estimated time to prepare each class will be at least 2 hours. Cancelled sessions due to illness of the lecturer (or unanticipated circumstances preventing him or her from teaching) will be made up (normally added at the end of the semester).
Fees
As an advanced tutorial no fees apply.
01. Wednesday, April 17, 2013 - 4 to 6 pm CET
What are Memories for in a Society?
Assmann, Jan. Das kulturelle Gedächtnis, Schrift, Erinnerung und politische Identitat in frühen Hochkulturen. München, 1992.
Assmann, Jan. "Collective Memory and Cultural Identity." In New German Critique, 65, (1995): 125–133.
Hobsbawm, Eric J.. "Inventing Tradition." In Eric J. Hobsbawm and Terrence Ranger (eds.). The Invention of Tradition. Cambridge, 1983, pp. 1–14.
02. Wednesday, May 8, 2013 - 4 to 6 pm CET
Perceptions and Appreciation of Antiquity.
Allen, Terry (1986): A Classical Revival in Islamic Architecture, Wiesbaden 1986.
Tabbaa, Yasser (1993): Survivals and Archaisms in the Architecture of Northern Syria, ca. 1080-ca. 1150. In: Muqarnas 10, pp. 29-41.
Flood, Finnbarr Barry (2006): "Image Against Nature: Spolia as Apotropaia in Byzantium and the dār al-Islām." In: Mapping the Gaze. Vision and Visuality in Classical Arab Civilisation, a special issue of The Medieval History Journal 9 no. 1 (2006): 143-166.
Optional
Rogers, Michael (1971): A Renaissance of Classical Antiquity in North Syria (11th-12th Centuries) AAAS 21 (1971), pp. 347-356.
Flood, Finbarr Barry (2001): "The Medieval Trophy as an Art Historical Trope: Coptic and Byzantine "Altars" in Islamic Contexts." Muqarnas 18 (2001), pp. 41-72.
03. Wednesday, May 15, 2013 - 4 to 6 pm CET
Looking at Classizising Architecture in Detail (Harran, Amid, and Aleppo)
Allen, Terry (1986): A Classical Revival in Islamic Architecture, Wiesbaden 1986.
04. Wednesday, June 5, 2013 - 4 to 6 pm CET
Pre-Islamic Antiquity on Islamic Coinages
Lowick, Nicholas (1985): "The Religious, the Royal and the Popular in the Figural Coinage of the Jazîra." In: Julian Raby (ed.): The Art of Syria and the Jazira, 1100-1250. Oxford Studies in Islamic Art 1, Oxford 1985, pp. 159-174. (Lowick provides an overview on the subject).
Whelan, Estelle (2006): The Public Figure. Political Iconography in Medieval Mesopotamia, London 2006, pp. 15-30 (summary of the material). pp. 41-50 (analysis) (This is the best iconographic study ever written on this subjects; the strength lies in the catalogue, where she give for every image on coins many parallels from other visual sources).
05. Wednesday, June 12, 2013 - 4 to 6 pm CET
Reviewing the Pre-Islamic Legacy – Alexander
Abel, A. Iskandarnāmeh. In: EI 2
Müller-Wiener, Martina (2008): Im Kontext gesehen – Die Artuqidenschale und das "classical revival" in Nordsyrien und der Ǧazīra. In: Ulrike Koenen – Martina Müller-Wiener (eds): Grenzgänge im östlichen Mittelmeerraum. Byzanz und die islamische Welt vom 9.-13. Jahrhundert, Wiesbaden 2008, pp. 147-168.
Christian Images?
Hoffman, Eva (2004): "Christian-Islamic Encounters on Thirteenth-Century Ayyubid Metalwork: Local Culture, Authenticity, and Memory," Gesta, 43, 2 (2004), pp. 129-142.
Ward, Rachel (2005): "Style Versus Substance: The Christian Iconography on Two Vessels Made for the Ayyubid Sultan al-Salih Ayyub." In: Bernard O'Kane (ed.): The Iconography of Islamic Art, Studies in Honour of Robert Hillenbrand, London, pp. 309-324.
06. Wednesday, June 26, 2013 - 4 to 6 pm CET
The Search for Answers – Useful Memories – Final Discussion.
Antrim, Gordon Zayde (2006): "Ibn ʿAsakirs's Representation of Syria and Damascus in the Introduction to the Taʾrikh Madinat Dimashq." IJMES 38 (2006), pp. 109-129.
Grube, Ernst (1962): Studies in the Survival and Continuity of Pre-Muslim Traditions in Egyptian Islamic Art. In: Journal of the American Research Center in Egypt 1 (1962), pp. 75-97.
---