Welcome / 歡迎
Welcome to the Department of Chinese Language and Culture (ChinA), Germany's oldest institute for Sinology and, to this day, one of its largest. With three full professors, three lecturers, and a range of additional teaching staff, ChinA provides a sound and manifold introduction to China's language and culture both past and present.
歡迎進入我們的網站!漢堡大學亞非學院中國語言文化系是德國傳統最為悠久,迄今規模最大的漢學研究教學機構之一。 現有正教授三人,語言講師三人,及編外教學人員多名。在此處可以多層次、多角度地深入學習研究中國古今語言及歷史與文化。
The academic program in the Department of Chinese Language and Culture is designed to impart expert knowledge of modern and classical Chinese and well-founded knowledge about Chinese culture and society in a concentrated fashion. It also teaches students how to use this knowledge.
中國語言文化系的教學旨在發展學生的現代漢語與古代漢語的技能,向學生傳授中國文化知識,加深其對中國社會的瞭解。此外,我們還注重培養學生們的知識運用能力。
Recent events and publications at ChinA can be found here. / 最近活動
General contact / 聯係方式: 
Universität Hamburg
Asien-Afrika-Institut
Abteilung für Sprache und Kultur Chinas
Edmund-Siemers-Allee 1, Flügel Ost
20146 Hamburg
E-Mail: china.aai@uni-hamburg.de
Tel.: +49 40 42838-4878
Fax: +49 40 42838-10017
Mr. Philipp Ziefle oversees the department's front office.
History / 校史
Hamburg is the cradle of German Sinology. In 1909, a chair for "The Languages and History of East Asia" was established at the newly-founded Colonial Institute. The Sinologist Otto Franke held the chair following years of activity in the consular service. It was clear from the beginning that Sinology in Hamburg should contribute not only to academic research on China but to an understanding of China's contemporary development. In 1945, the chair was re-named "The Language and Culture of China." Following Otto Franke's five-volume work on the Chinese Empire, which was to become a standard work in German Sinology, Alfred Forke's three-volume history of Chinese philosophy and Wolfgang Franke's seminal works on China's most recent developments have enjoyed international recognition.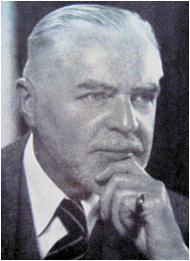 Otto Franke (1863 - 1946)
The first chair-holder was Liu Mau-Tsai. Mau-Tsai was also the first Chinese scholar to enjoy such a position in Germany. Following Wolfgang Franke's retirement, his successor, Hans Stumpfeldt, significantly shaped Sinology in Hamburg and cemented its outstanding reputation in Germany.
Today, Sinology represents a broad spectrum of interests taught by three full professors, Barend ter Haar (language, literature,  and religion) and Kai Vogelsang (history and society) and Thomas Fröhlich (history of ideas and philosophy). Since the Asien-Afrika-Institut was founded in 2000, Sinology in Hamburg has expanded to become the "Department of the Language and Culture of China" (ChinA) and constitutes part of East Asian Studies.
Academic Program / 學科門類
ChinA offers degrees at the B.A., Master's as well as Ph.D. levels, although the program doesn't end there: it also prepares students to pursue careers in the most diverse professional fields, from business and culture to media and academia.
The four-year International Bachelor Program on East Asia (IBO) provides sound knowledge of Chinese language and culture in both an interdisciplinary and intercultural context. For any questions on this program (taught in German), please contact Prof. Dr. Barend ter Haar.
The Master's Program in Sinology deepens this knowledge in intensive exercises involving Chinese source material, current issues in research, and the development of key skills in both scholarly pursuit and other professional areas. From Winter 2018, students can choose to specialize in "Conceptual and Intellectual History", a bilingual program taught in English and German. For any questions regarding the Master's programs, please contact Kai Vogelsang.
The Dr. phil. stands at the threshold of scholarship. Under professorial guidance, the doctoral candidate makes an authentic contribution to Sinology research with the intensive treatment of a specialized topic.
Research / 學術研究
ChinA aims to represent the entire spectrum of Sinology scholarship. Accordingly, its members have a very wide range of research interests, from the beginnings of Chinese civilization in the first century B.C. to transformations in the 20th and 21st centuries and from classical Chinese philosophy to modern humanities. They encompass historical and philological questions as well as cultural, literary and art-historical topics.
本系致力於全方位的漢學研究,因而研究領域頗為廣泛:從西元前一千年中國文明的起源至二十、二十一世紀中國社會的嬗變,從中國古代哲學到政治經濟學。研究領域涉及歷史與語言文字以及文化史、文學及美術史等課題。
Please find an overview and further information on our academic staff here. / 師資隊伍
Cooperation / 合作
ChinA cooperates with several academic and cultural institutions concerned with China both nationally and internationally. At the heart of cooperative activities are public events, joint research projects, and academic exchanges.
In the general framework of Hamburg University's partnerships, ChinA has close contacts to Fudan University (Shanghai), National Taiwan University (Taipeh), and the St. Petersburg Academy of Sciences. Furthermore, we enjoy close relations with the Yuelu Academy at Hunan University (Changsha), Henan Normal University (Xinxiang), and the University of Kyōto.
In Hamburg, ChinA enjoys close contact to the Hamburger Sinologische Gesellschaft (Hamburg Sinological Society), the Konfuzius-Institut (Confucius Institute), the GIGA Institute of Asian Studies, the Ostasiatischer Verein (East-Asian Association), the Chinesisch-Deutschen Gesellschaft (Chinese-German Society), the Taipei-Freundeskreis Bambusrunde (Taipei Friends' Circle Bambusrunde), the Hamburger China-Gesellschaft (Hamburg China Society), and others.
Additionally, ChinA helps to organize the international summer school for students from Japan, Taiwan, and Korea.