Islamic Archaeology Winter 2014-15
Webinars in Islamic Material Culture
Series of Webinars in Islamic Material Culture
Introduction to Islamic Material Culture - Islamic Archaeology
by Bethany Walker, Bonn University
start Wednesday Oct., 8th, 2014 -6-8 pm.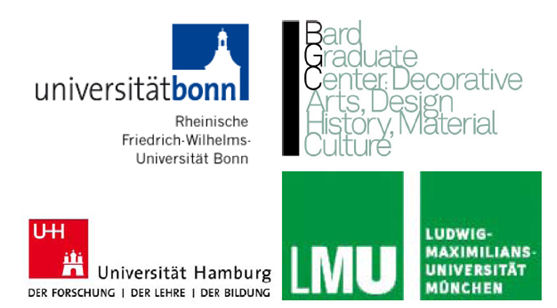 Islamic Material Culture
The Universities of Bonn (Bethany Walker), the Ludwig-Maximilians-Universität in Munich (Andreas Kaplony), The Bard Graduate Center in New York (Abigail Balbale), and Universität Hamburg (Stefan Heidemann) are co-operating in setting up a series of 4 webinars in Archaeology of the Middle East, Arabic Papyrology, Islamic Arts and material Culture, and Numismatics of the Middle East.
Why Webinars?
Knowledge of the various subjects of material culture and experience in researching and teaching them is thinly spread among the universities. In the US only one academic institution, The Bard Graduate Center, is devoted to the cross disciplinary, diachronic and global study of material culture. No comparable academic centre exists elsewhere. In Europe and the Mediterranean the material turn in the study of the Middle East is reflected in several dispersed courses at multiple universities. The leading scholars in the field for the study of material culture are dispersed, teaching often not only in different departments (Archaeology, History, Islamic Studies, and Art History), but also on different campuses in different countries within Europe, Northern America, and beyond.
Who we are.
To remedy this situation for students of Islamic Art, Arabic Philology, History, and Archaeology a group of four leading scholars work together in a series of webinars. Currently eleven such webinars have been held by Andreas Kaplony on Arabic papyrology and three by Stefan Heidemann on numismatics and material culture. Both series of webinars are internationally well attended.
The first webinar in this co-ordinated series will start in October:

Ill. Excavation in al-Raqqa, Syria (photo Stefan Heidemann)
Webinar: Introduction to Islamic Material Culture - Islamic Archaeology
by Bethany Walker, Bonn University
start Wednesday Oct. 8, 2014 at 6-8 pm.
Course description and requirements:
This is a webinar course, taught via Adobe Connect and Skype. In it students will be introduced to the basic methods and scope of inquiry of Islamic archaeology, as a way of studying material culture, and will better understand its conceptual and methodological relationship to kindred disciplines, such as Islamic Studies, Art History, Sociology and Anthropology, and Cultural History. The potential of archaeological scope of inquiry and methods for answering questions related to economic, socio-cultural, and environmental history will be emphasized. Chronological range is 7th-19th c. CE., with case studies taken from sites throughout the Islamic world. Comparisons across cultures (with non-Muslim culture) will be also made as needed.
Students will acquire a degree of competence in reading archaeological reports, accessing and using a variety of electronic resources, framing research questions and projects appropriate to the discipline, methods related to combining textual and material cultural analysis, assessing evidence and relevance of the long durée concept of social change, and basic concepts of spatial analysis. Assignments include leading one webinar during the semester; writing a grant proposal for a mock project; and the occasional, ungraded short written assignments on weekly readings.
Prerequisites: Spoken and written proficiency in English language. Otherwise, there are no prerequisites. The course is open to all MA students (regardless of major). All students need a computer, reliable internet access, and a headset.
Students from outside the University of Bonn have to apply with a short CV and a motivation letter in English. Students of Hamburg University can choose this course in their Wahlbereich. These will be emailed to Prof. Bethany Walker at: bwalker@uni-bonn.de. A short Skype interview will be conducted afterwards. Preference is given to students from universities where a special agreement exists.
---